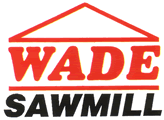 Pine Fencing Rails and Posts.
Quality timber, at a competitive price!
Using top quality, plantation grown pine, Wade Sawmill can supply everything needed for the discerning fencing retailer.
Pine Fencing Rails, Palings and Posts can be cut to a variety of sizes and lengths. Landscape Pine Sleepers are manufactured in many sizes. Wade Tru-Log is also produced at our Maryborough site in a variety of sizes and lengths.Our flexibility allows us to offer a large range of cut-to-order pallet material in various sizes and lengths.
This modern, semi-automatic sawmill ensures customer needs will be met with the quality each customer deserves and expects. Customer satisfaction is very important to the team at Wade and the Customer Service team is second to none.
A CCA treatment plant is in operation at the mill to cater for customer needs. Wade's preservative treatment products are supplied by Koppers carrying a 40 year guarantee. Wade Sawmill recommends using treated wood as this prolongs timber life. Wade Sawmill also has available an environmentally friendly treatment that does not contain arsenic for use in school and playground areas when CCA treatment is not recommended.
Wade Sawmill prides itself on being a 'zero emission' mill. We have large plantations of hardwood dedicated to preserving and maintaining the local flora and fauna. All of our pine is harvested from renewable plantations.
Essentially 100% of waste is reused
Pine sawdust becomes fertiliser for Queensland farms
Pine chip becomes MDF board (particle board)
Pine bark, peelings and offcuts becomes garden mulch
Wade Sawmill is a family business, now in its third generation, that has been supplying 'Quality Timber at a Competitive Price' for over 35 years, with co-owner, Robin Wade, having over 50 years experience in the timber industry.
Wade Sawmill has won many awards and has consistently been included in the top 200 businesses since 1991. In 1994 Wade was awarded the 'Best Medium Sawmill in Queensland' and was included on Business Review Weekly's Top 100 Fastest Growing Companies. Marian Wade was a finalist in Telstra's 'Women In Business Award' in 2007!
---
THINKING OF A HOLIDAY ...IN HERVEY BAY?
Holiday Rentals Hervey Bay offers two unique holiday homes at very reasonable prices. For one week, or a whole month!